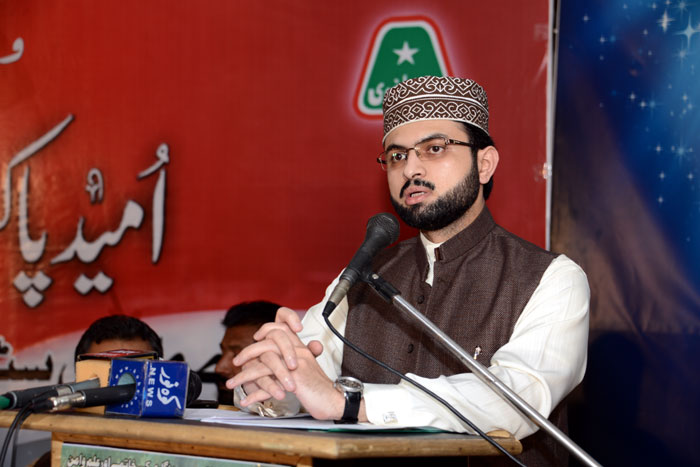 Chairman of the Supreme Council of Minhaj-ul-quran International, Dr Hassan Mohi-ud-Din Qadri has said that Dr Tahir-ul-Qadri has given a call to 20 million 'namazis', not voters to establish the 'jamat of revolution' who will continue to stay steadfast till the time unless Satans of politics make their escape good. He said that the students and workers should make preparations for the establishment of 'jamat', which should soon be led by Dr Muhammad Tahir-ul-Qadri. This would result in the onset of revolution in the country. He said that no change was possible through vote in the presence of corrupt electoral system. He said that people's rights were being submerged in the tsunami of oppression. No nation can progress without education. So acquisition of education should be first and foremost responsibility of the students, he said.
Dr Hassan-ud-Din Qadri expressed these views while addressing a seminar organized to mark the foundation day of Mustafvi Sudents Movement in Lahore today. Central president of MSM Irfan Yousaf, Abdul Ammar, Sheikh Ammad ul Islam, Tajamal Hussain and Sajid Gondal were also present on the occasion. In addition to a large number of students, representatives of student organizations, political personalities and local notables attended the seminar.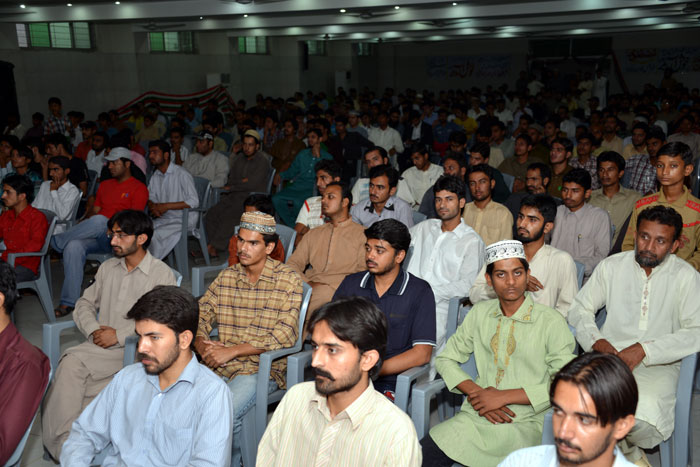 Dr Hassan Mohi-ud-Din Qadri said that students and youth played significant role in the socio-economic development of any nation. He said that our objective was to establish higher educational standard and convey Islam's universal values to the student community. He said that MSM had been busy in promoting harmony and peace and education in the educational institutions for last 19 years. He urged the students to connect themselves to book, not weapons and play their role in the promotion of positive attitudes in the society.
Dr Hassan Mohi-ud-Din Qadri said that acquisition of knowledge had become difficult in Pakistan and the reason underlying this was the corrupt electoral system. He said that the students could not have enough resources to finance their education due to ever skyrocketing inflation and price hike. He said that the nations in the know of value and importance of education were imparting free education to their children while the education infrastructure in Pakistan was in poor condition and there were insufficient budgetary allocations for education.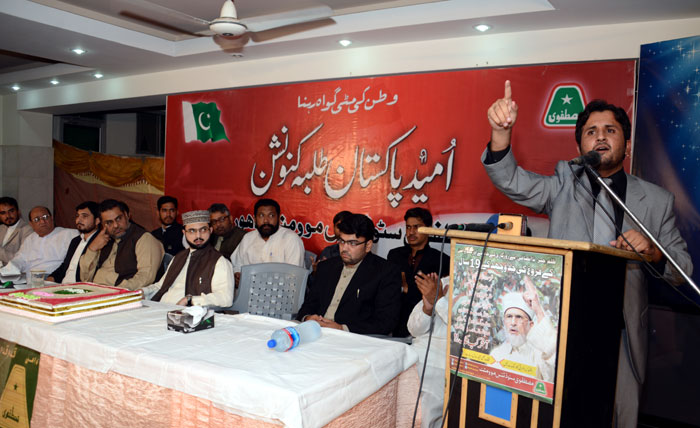 Addressing the students convention, central president of MSM Irfan Yousaf said that the destination of Mustafvi revolution was near as the prayer was about to be established under the leadership of Dr Muhammad Tahir-ul-qadri. He said that students would be in the forefront of ranks of revolution and stay steadfast like all other 'Namazis' till the achievement of objective. He asked the status quo forces to beware of the onward march of revolutionaries because the system meant to protect them was about to be destroyed. He said that real democracy would be established in the country after the revolution.
Other members of MSM team expressed their resolve to continue making efforts for promotion of peace in the country and fostering culture of book reading and love for knowledge.