Addressing a 'Peace Conference' held under the banner of Mustafavi Students Movement (MSM), Chairman Supreme Council Dr Hassan Mohi-ud-Din Qadri has said that the status quo forces are hindering the way of educated youth to play their role in the national affairs. He said that those who save their politics end up in being positions of power while those who are striving to save the state are behind bars facing fake and illegal cases. He said that Pakistan would not be put on the track of prosperity without changing the system of oppression and exploitation.
Former provincial minister Imran Masood, MSM President Irfan Yousaf, Furrukh Habib, Muddassar Haider, Urwan Kumar, Aqeel Asif, Razi Tahir and Imran Advocate addressed the peace moot.
Speaking on the occasion, Irfan Yousaf said that the youths wedded to ideology of MQI and Dr Tahir-ul-Qadri rendered matchless sacrifices to bring about change in the system through peaceful means. They braved the state oppression and torture and proved that no power could sway them from the path of truth.
In his speech to the Conference, Mian Imran Masood said that the youths and students who got intellectual training at the hands of Dr Tahir-ul-Qadri chronicled a glorious chapter of courage, sacrifices and determination in their struggle for establishment of real democracy and change in the system. He said that the sacrifice of lives offered in Model Town and Islamabad would not go in vain. He said that Dr Qadri has laid a firm foundation to free the country of shackles of corrupt leadership and riddance of elitist system. He said that revolution is bound to come as oppression has exceeded its limits.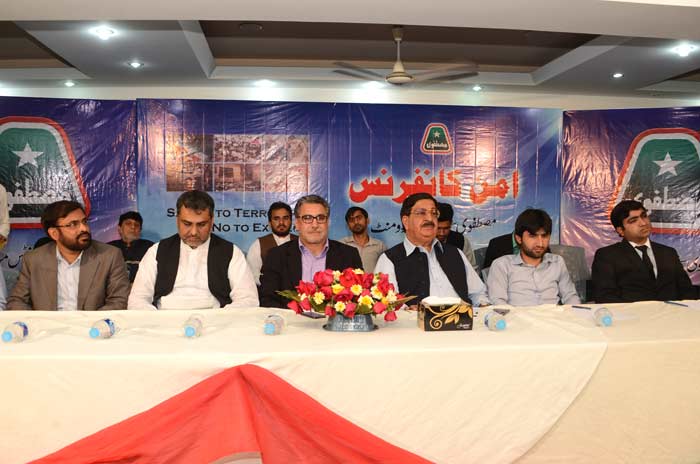 President of Insaf Students Federation Farrukh Habib said that honest leadership will have to get together to change the system. He said that Dr Tahi-ul-Qadri and Imran Khan have shared thought and struggle to rid the country of shackles of corruption and corrupt system.
Urwan Kumar said in his talk that Pakistan cannot progress without eliminating terrorism. He said that the Prophet (SAW) came as a prophet of mercy for the whole mankind and his teachings are based on peace, love and harmony.
The Secretary General of Imamia Students Federation said on the occasion that we reject the ideology of Taliban, Daish, and Al-Qaeda and consider it to be violation of teachings of Islam. He said that the whole nation stands behind their armed forces in the struggle to uproot terrorism in the country.
President of Young Lawyers Association Imran Advocate said that tragedies such as Model town, Kot Radha Kishan, Youhanabad, and Sialkot happened during the incumbency of present rulers. He said that no one can get justice as long as they are in power. He said that there is a need to accelerate the pace of struggle aimed at changing the system. He said that we pray for the early recovery of PAT chief Dr Tahir-ul-Qadri.