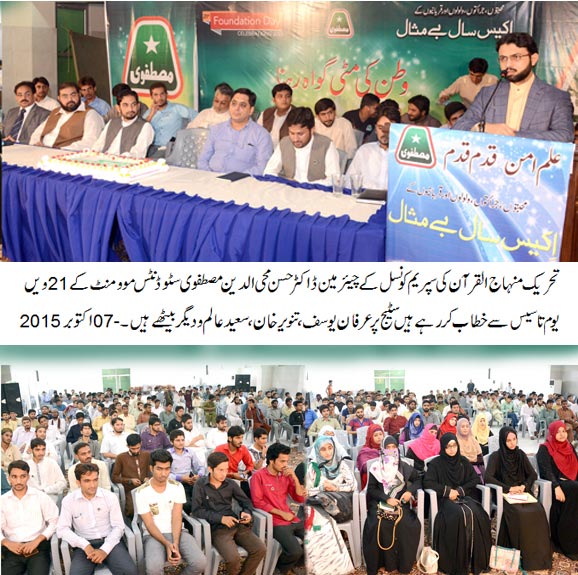 Addressing the 21st foundation day ceremony of Mustafavi Students Movement (MSM) at the central secretariat, Dr Hassan Mohi-ud-Din Qadri, chairman of the MQI Supreme Council, has said that revolution is bound to come and the youth will play the major role in deciding about the matters relating to national destiny. He said that the youth is not ready to tolerate corruption-riddled and stinking system any longer. He said that the students belonging to the MSM are the front runners in the mission of Dr Tahir-ul-Qadri and their sacrifices are valuable part of the national history.
MSM President Ch Irfan Yousaf, Tanvir Khan, Malik Saeed Alam, Mian Murtaza, Hashim Hussain, Malik Basit, Rana Tajammul Hussain and Hafiz Samar Abbas addressed the foundation day ceremony.
The meeting adopted a unanimous resolution on the occasion which demanded of the provincial governments to make arrangements for provision of free and compulsory education to children aged between 5 and 16 years in accordance with Article 25-A of the Constitution of Pakistan. It further said that the educated youth should be given employment commensurate with their qualification.
Dr Hassan Mohi-ud-Din Qadri said in this speech that it will not take long for the sun of revolution to rise. He said that these are the youth who will hold the corrupt elements accountable for every penny. He said that the students and youth of MSM played an important role during the sit-in and revolution march. He said that when they threw a challenge to the lion of circus, he ran away all of a sudden. He said that the whole nation knows that the Prime Minister did not sleep in the PM House out of fear during the days of sit-in.
The Supreme Council Chairman further stated that the youth of MSM, equipped as they are with the spirit of sacrifice, proved in the long march that power which is got on the basis of money earned through corruption, kickbacks and conspiracies does not have a sound foundation.
MSM President Ch Irfan Yousaf, while speaking on the occasion, said that the dream of revolution of Dr Tahir-ul-Qadri will surely be fulfilled. He said that 21-year old journey of MSM is characterized by sacrifices and selflessness. He said that the workers of MSM are playing their role in raising awareness about eradicating class-based system, for uniform system of education, and against unjust distribution of national wealth. He said that struggle for Mustafavi revolution will continue till the destination is achieved. He said that the MSM is conveying the message of peace of Dr Tahir-ul-Qadri to every nook and corner in the country.