200 million Pakistanis ready to defend motherland: Dr Hussain Mohi-ud-Din Qadri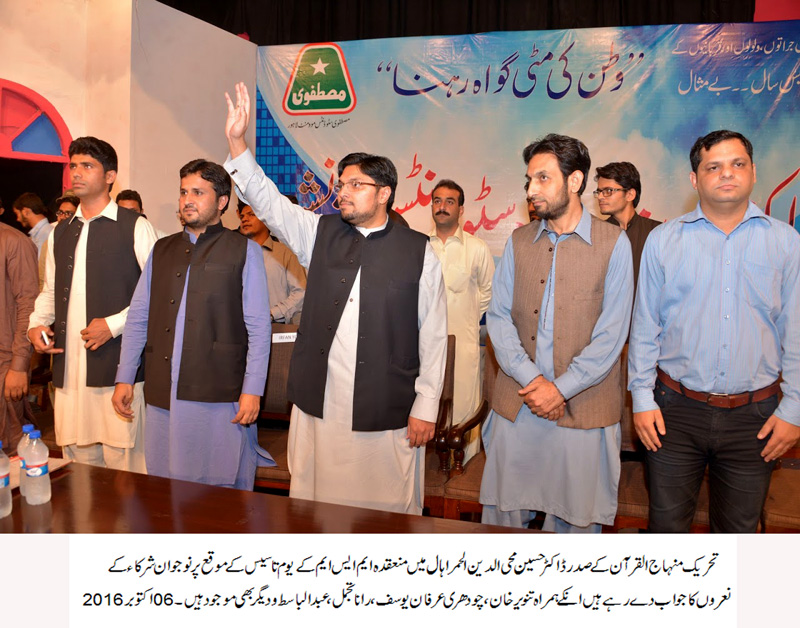 Addressing the 22nd foundation day of MSM, Dr Hussain Mohi-ud-Din Qadri, President of MQI, has said that the struggle of PAT, MQI and MSM is for the sake of promotion of peace and knowledge. He said that we did not take up arms despite the killing of 14 workers in Model Town, adding that only the workers of Dr Tahir-ul-Qadri are standing on an ideology. He said that this Hussaini caravan will defeat the Yazidi thought of terrorism and extremism and revolution is bound to come and the patrons of corruption will be consigned to dustbin of history.
Ch. Irfan Yousaf, central President of MSM, presided over the foundation-day ceremony, whereas Tanvir Khan, Zain Ali, Asadullah Khan, Mian Ansar Mahmood, Abdul Basit Malik, Rana Tajammul Hussain, Iqra Yousaf Jami, Farooq Shah, Rana Ali Hassan, Adeel Bhatti, Ismail Ishaq, Haleema Bibi and Zainab Arshad addressed the ceremony. Amir-e-Lahore Hafiz Ghulam Farid was among the distinguished audience.
A resolution adopted on the occasion expressed unwavering support and solidarity with the Kashmiris and the armed forces of Pakistan. It said that if any country including India tried to cast an evil eye on Pakistan, 200 million people of Pakistan would defend every part of the motherland along with their valiant armed forces and the students belonging to MSM will be in the vanguard of this.
Speaking on the occasion, Dr Hussain Mohi-ud-Din Qadri said that the Pakistan of the Quaid-e-Azam was divided into two countries by the corruption kings. He said that there are two groups of people; one buys degree with an expenditure of Rs. 2 million and the other one goes to the public sector schools where there is neither furniture nor teachers. He said that there is one class of people that does not let their shoes be tainted with a speck of dust and there is another which polishes the shoes of others to remain alive.
Dr Hussain said that Dr Tahir-ul-Qadri is producing students by equipping with the state of the art education. He said that youth and students are architect of the nation. He said that hundreds of educational institutions under MQI are educating students how to use pen as a weapon to make advancement in life. He said that these are the politically aware students that raise voice against corruption, terrorism and extremism. Hundreds of thousands of them get together to raise their voice for the rights of the poor but do not take law in their hands.
Addressing the ceremony, Ch. Irfan Yousaf said that no worker of any other political party can ever think of exemplary struggle the students of MSM waged on the night of August 30 and 31. He said that revolution is our destination, adding that after our revolution, no one would go hungry or thirsty and all irrespective of their position will have equal access to education and health facilities. He said that the youths of MSM will realize the dream of revolution under the leadership of Dr Tahir-ul-Qadri. He said that Dr Qadri is the only leader in Pakistan whose love for the country, knowledge and understanding of issues is a known fact. He said that he is the leader who continues to inspire hundreds of thousands of students.
The venue reverberated with slogans in support of Pakistan and Kashmiris. Dua was made for the martyrs of Model Town and Kashmir at the end of the programme. Dr Hussain Mohi-ud-Din Qadri congratulated the MSM on the 22nd foundation day.