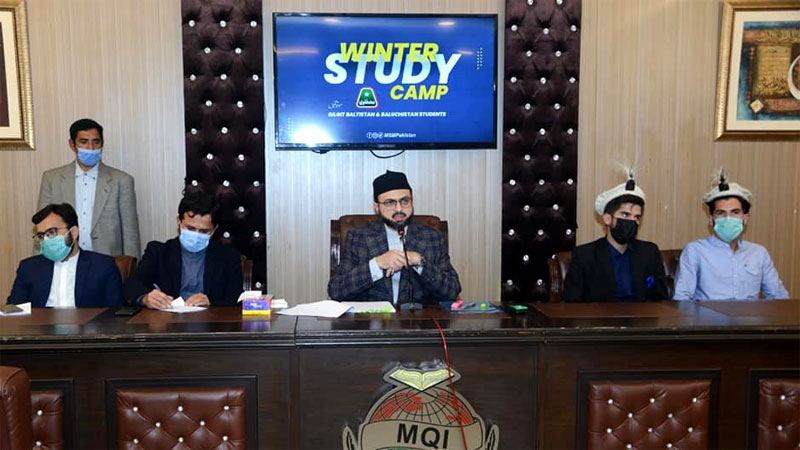 Imparting education to every child is the first and foremost responsibility of the state. The youth needs to be given contemporary education in addition to religious ones in order to eradicate sectarianism and extremism. Educated youth are the bright future of Pakistan and Islam.
These views were expressed by Chairman MQI Supreme Council Dr Hassan Mohi-ud-Din Qadri while addressing the concluding ceremony of an educational winter study course held under the banner of the Mustafavi Students Movement. More than 70 students of Balochistan and Gilgit-Baltistan attended the camp.
Dr Hassan Mohi-ud-Din Qadri said that MQI is working for the promotion of peace and knowledge in addition to its core work of projecting the peaceful image of Islam. He said that Shaykh-ul-Islam Dr Muhammad Tahir-ul-Qadri has been endeavoring to make the country hub of peace through the establishment of justice and eradication of sectarianism. He said that the students of GB and Balochistan are highly talented, patriotic and lovers of knowledge and peace. He said when ignorance gets eradicated, it will end extremism, sectarianism, and terrorism from the country.
Dr Hassan Mohi-ud-Din Qadri said that education is the symbol of living nations and the greatness and supremacy of civilized society. He said patience, gratitude, fear of Allah, and determination are some of the important attributes of an educated society. He said that it is the educated society only that becomes the advocate of real humanistic values. He said that knowledge plays a fundamental role in empowering society and making it positive and progressive in thinking and action. He said that the purpose of education is that pious thoughts shape an ideal society that is characterized by feelings of empathy, and goodwill.
Chairman Supreme Council said that if we have to become a living and powerful nation, then we need to combine the education of science and technology with religious knowledge. He asked the students to make the acquisition of knowledge their topmost priority.
MSM President Irfan Yousaf, Chaudhry Zia ur Rahman Ziluj Inqilabi, Farhan Aziz, Hassan Ali, Raja Ata-ul-Mustafa, and Hussain Ali also addressed the concluding ceremony. The students of GB and Balochistan expressed their views as well in which they appreciated MSM and MQI for their leadership role in promoting education. They said that the people of GB are grateful to Dr Tahir-ul-Qadri for showing a peaceful image of Islam in the world.
Certificates and shields were also distributed among the participating students at the conclusion of the ceremony.