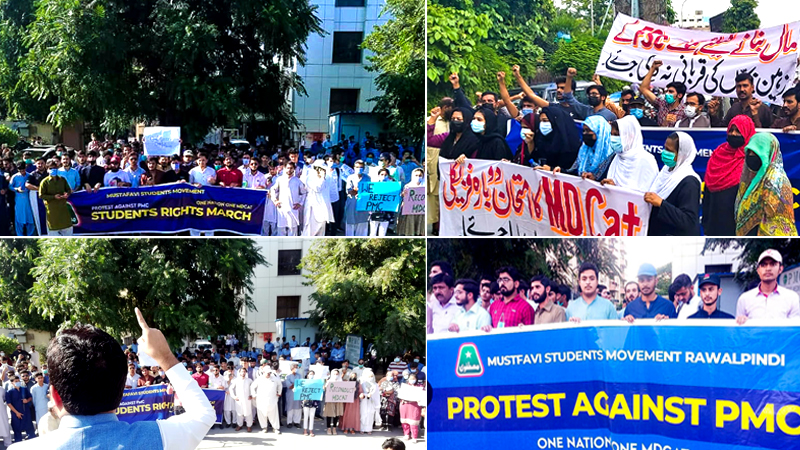 Peaceful countrywide protest demonstrations were held against MD-CAT test conducted by the Pakistani Medical Commission. Held under the banner of MSM, these demonstrations were held in 40 cities including Islamabad, Lahore, Karachi, Faisalabad, Gujranwala, Sialkot, Multan, DG Khan, Bahawalpur, and Sargodha.
The protesting students demanded that answer sheets should be given to the students whose tests have been conducted; and the technical issues in the information technology system should be addressed.
Addressing the demonstrations, MSM leaders said that if the return of the answer sheets is not possible, MD-CAT tests should be conducted in-person again. MSM president Chaudhry Irfan Yousaf, while speaking to the students outside the PMC office in Islamabad, said that the test should be conducted the same day throughout Pakistan. He said that in case this demand of the students was not accepted, they will be forced to extend their protest to other cities of the country. He said that MSM will continue to raise voice for the rights of the students and call out PMC for its excesses. He said that poor scoring quality of the MD-CAT test has imperilled the future of otherwise very talented and bright students. He said that MSM stands by the students and will continue to speak for their rights.
The demonstrations were attended by a large number of male and female students as well as their parents. They were carrying playcards and banners and chanting slogans against the PMC and in favour of their demands.
Sheikh Farhan Aziz, Secretary-General MSM, led the demonstration in front of the Lahore Press Club. A large number of students attended the protest and chanted slogans for their rights. Speaking on the occasion, Sheikh Farhan Aziz said that the online test has endangered the future of the students. He said that PMC gave the contract to its blue-eyed IT company, which has played havoc with the future of thousands of students. He said that there is no prior record or profile of the company which has raised serious questions.
Sheikh Farhan Aziz said that the answer sheets that are invariably given back to the students have not been provided this time round. He said that there were many out of syllabus questions which is nothing short of an excess. He said that the students will not let anyone snatch their rights.
The students demanded of the President, Chief Justice and the Prime Minister of Pakistan to take notice of this anti-education test held by the PMC and play their role to save the future of thousands of students from being ruined. They further demanded that exemplary punishment should be given to those found guilty.