Source: http://www.indiannewslink.co.nz
By Venkat Raman 14/08/2011 01:32:00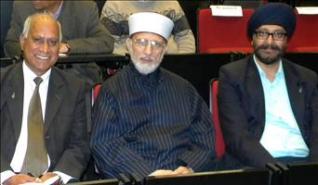 Terrorists and those supporting them have no place in any society and they should be banished and brought to justice, a prominent Islamic Scholar has said.
Dr Muhammad Tahir Ul Qadri, a world-renowned writer, orator and interpreter of the Holy Quran and Islamic values, said that those perpetrating violence, destruction and death in the name of Islam are not true Muslims and that they should be put away forever.
He issued his famous 'Fatwa' against terrorists, stating that they were responsible for spreading hatred against Muslims by people of other faiths around the world.
"The teachings of Islam are very clear. Nowhere in the Holy Quran is there a word or sanction against people of other religions and faiths. In fact, Islam specifically preaches love and respect towards all, especially Non-Muslims.
"It specifically states that Muslims can go on the warpath only in self-defence and not to destroy those leading a peaceful life. The Holy Quran prohibits use of force, coercion, torture and such other inhuman acts against any non-combatant. "Killing thousands of people in the name of Islam is the greatest disservice rendered to this religion," he told Indian Newslink during an interview.
Mistaken Jihad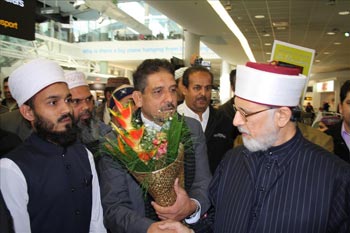 Dr Qadri said that the mindless acts of the terrorists have led to the large scale suffering of ordinary Muslims in many parts of the world.
"Extremist and terrorist acts have been taking place on Islamic concepts such as 'Jihad.' Extremists have misinterpreted the teachings of the Holy Quran and Hadiths to cloud the minds of Muslims in general and the younger generation in particular, leading to barbaric acts like suicide bombings," he said.
As well as issuing the Fatwa, Dr Qadri appealed to the ordinary Muslims to shun the terrorists and those supporting them. He said his 'edict' has been acting as a relief and empowered moderate Muslims.
"The minds of our young people, clouded by misleading concepts have now been given clarity and understanding of moderate and peaceful teachings of Islam. The world should know that Islam does not stand for terrorism, does not condone terrorism and does not preach violence," he said.
Dr Qadri dispelled the myth of 'Jihad' at a lecture that he delivered at the University of Auckland Business School on August 7.
"Jihad does not mean killing people of other faiths and religions. It is a term used to describe the efforts to achieve righteousness, struggle for equality of human being, removal of hunger, combating social evils such as corruption and other wrongdoings. Jihad is not an act of aggression. Jihad may be permissible in lawful war of defence, not offence," he said.
The lecture was organised by the Pakistan Student Association and other senior members of the resident Pakistani community, at which Labour MP Dr Ashraf Choudhary (who presided over the meeting), National MP Kanwaljit Singh Bakshi and a number of leading businesspersons and others were present.
Throughout his hour-long speech, Dr Qadri stressed that Islam stands for peace, love, compassion, human dignity and mercy.
"I wish to reiterate that Islam does not stand for any kind of violence, militancy, terrorism and brutality. Muslims and Non-Muslims must know that the literal meaning of Jihad is exertion, struggling, striving and putting extreme efforts according to extreme abilities to counter evil, achieve good in the service of the Almighty Allah," he said.
"The defensive struggle against your enemy, defensive struggle against your lower-self, hatred, arrogance corruption is another aspect of Jihad. This is for the safety of mankind, not for killing people."
Defensive War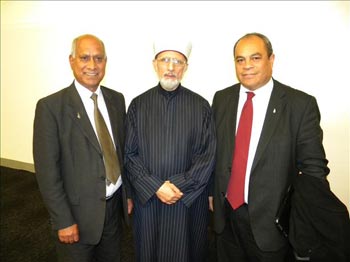 Highlighting various points about the Islamic concepts of Jihad, he said that the real meaning, as prescribed in the Holy Quran, does not ordain killing, fight and bloodshed. According to him, 31 out of 35 verses that deal with Jihad, describe it in different contexts but none of them had any reference to battle and killing.
"I have not found a single verse in the Holy Quran condoning any act that brought death and destruction, especially to non-Muslims.
"Jihad has been described to mean 'defensive war.' Jihad is not aggression but represents action for self-protection," he said.
Dr Qadri said Islam had fought two wars against terrorism in the first two centuries.
But terrorism in modern times have adversely affected the economies of the developing and developed countries.
"Terrorists have no religion. The phenomenon of terrorism has not appeared suddenly out of nowhere. It has evolved through the phases of radicalism and extremism and terrorists are used as fodder for the cannons of the masterminds of this evil," he said.
Read related stories in this Special Report
About the Scholar
Pakistan-born Dr Qadri was Professor of International Constitutional Law at the University of Punjab (Pakistan). He was the Founder-Chairman of the Pakistan Awami Tehreek, a political Party with a 'common approach' for the social progress and economic development of Pakistan. Dr Qadri was elected to the National Assembly at the 2002 elections from the Lahore Constituency.
Dr Qadri is the founder of 'Minhaj Ul Quran International' in Pakistan. The Organisation, with branches in 90 countries, promotes 'true Islamic principles' of moderation, world peace and human welfare.
The organisation will host a four-day youth camp in the UK next month, teaching the tenets of humanity, goodwill, respect for non-Muslims other religions.
He established the Minhaj University in Lahore to impart quality education and the spirit of universal understanding and religious tolerance among the younger members of the society.