Source: http://www.indiannewslink.co.nz
By Venkat Raman 14/08/2011 03:58:00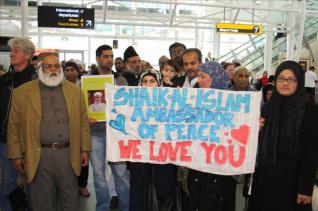 Admirers gather at Auckland International Airport to receive Dr Muhammad Ul Qadri on August 3, 2011 (Indian Newslink Picture (c)
Despite being the world's most egalitarian form of life and religion, Islam is perhaps the most misunderstood and misinterpreted faith, leading to confusion and consternation among non-Muslims.
Pakistan born Scholar, Philosopher and Preacher Dr Muhammad Tahir ul Qadri has dedicated his life and career to spread the right message of Islam, remove misconceptions and propagate the world's fastest growing religion as a moderate religion dealing with moderate people.
During his visit to New Zealand last week, he proved that he was not only a man of letters but thoughts and deeds that reflected the teachings of the Holy Quran and Prophet Mohammed (Peace be upon Him).
"It is unfortunate that Islam, which stands for peace, harmony and peaceful coexistence, preaching tolerance and respect for all religions, should be falsely represented by people who call themselves Muslims. Such people, who spread hatred, and falsehood about Islam as an intolerant religion should be banished from the society. They have done more harm to the religion and humanity at large than anyone else in history," he told me during an interview.
Dr Qadri was well aware of flurry that his opinions would cause among Islamic fanatics and extremists, more so among terrorists and their abetters.
The Fatwa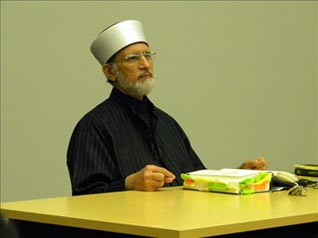 He said there was a million dollar prize on his head, especially after he issued a 'Fatwa' against terrorists and their sponsors.
While his followers and admirers fuss over his safety and security, Dr Qadri remains unruffled, almost to the point of being indifferent.
"Almighty Allah will protect me. He knows the best for me. Why should I worry when my Protector is the Supreme and Strong?" he said, as he perused the issue of Indian Newslink (August 1) which announced his arrival and lecture.
The Lecture, delivered at the University of Auckland Business School on August 7 was an intellectual stimulant, rarely available to Non-Muslims on a subject that is so widely discussed and so widely misunderstood.
Distorted religion
According to Dr Qadri, many people, including Muslims and non-Muslims had distorted view of Islam.
"It is necessary to remove the confusion and enable people to understand the true value of Islam, which stands for peace and humanity. In fact, peace and humanity are interminably linked to Islam," he said.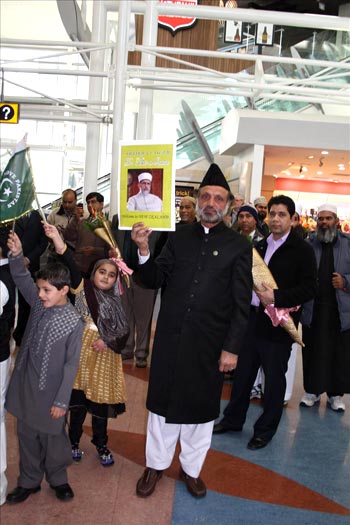 The hour-long speech, delivered impromptu, was replete with anecdotes and historic references to Prophet Mohammed.
"Reading and writing were against the social norm when our Prophet began to spread the teachings of the Holy Quran. There were no schools and the general feeling was that education led to degradation and dishonour.
"It was against such a psyche that the Prophet delivered the first message of Almighty Allah contained in the five verses of the Holy Quran. The first word was 'Read.' The message spoke about the importance of education, use of the pen and biological evolution, which became known to the West more than 1100 years later," Dr Qadri said.
According to him, the Holy Quran also spoke about spiritual, cultural, social, psychological and moral aspects of human life.
The society at that time was one of intolerance, torture, brutality and warfare. There was no concept of resolving disputes peacefully and the spirit of forgiveness was absent.
"The Prophet's message was one of love, peace, mercy, compassion and kindness for the whole of mankind. The first chapter of the Holy Quran teaches the need for kindness towards all animate and inanimate beings, love towards all and the spirit of love, give and forgive. This is the message contained in all the Holy Books of all religions including the Vedas, Upanishads (Hindus), the Bible (Christians), Buddhism and Jainism," he said.
Promised Paradise
According to Dr Qadri, Allah did not promise Paradise to terrorists, suicide bombers and those who kill innocent people including non-Muslims.
"Allah is the Most Merciful, Most Benevolent and Most Gracious and He would never condone such people and accommodate them. In fact, terrorists and their sponsors will have no place in heaven," he said.
A global citizen
Earlier, Labour MP Dr Ashraf Choudhary said that the Islamic Scholar had more than 1000 books, 7000 lectures (in Arabic, English and Urdu) to his credit, in addition to appearing in scores of interviews on television channels (including BBC, CNN and Al Jazeera).
He established 'Minhaj Ul Quran International' in Pakistan. The Organisation, with branches in 90 countries, promotes 'true Islamic principles' of moderation, world peace and human welfare.
Advice to Muslims
"One of his most popular books is the 'Fatwa,' in which he has denounced terrorism of all forms and advised all true Muslims to bring the terrorists to justice.
"He is very popular in the West and his moderate views have enabled people to understand the true meaning and purpose of Islam and its teachings," he said.
According to Dr Choudhary, the visit of Dr Qadri to New Zealand was significant.
"He brings the message of goodwill and peace to the people of New Zealand and encourages the Muslim population (about 45,000) to integrate well into the society and serve their adopted country," he said.