Source: http://www.tarkeen.net/peoples/10100-the-living-legend.html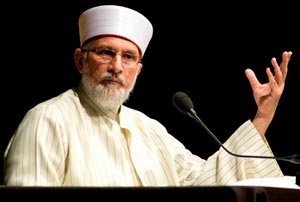 Mr. Dr Tahir-ul-Qadri, founder of the Minhaj-ul-Quran worldwide movement promoting a tolerant Islam, born February 19, 1951, Jhang, Pakistan, is a Pakistani Sufi scholar and former professor of international constitutional law at the University of the Punjab.
Qadri is the founder of Minhaj-ul-Quran International, a broad-based global Sufi organization working in the fields of welfare, human rights and education. Its objectives are the promotion of a moderate and non-extremist vision of Islam, the establishment of good relations and understanding between communities and religions, and the education of youth employing the methods of Sufism.
He also founded The Minhaj University of which he is the head of the Board of Governors, as well as an international relief charity, Minhaj Welfare Foundation.Tahir-ul-Qadri argues that terrorists have left the true, classical teachings of Islam and that their rebellious spirit of violence and religious extremism is a continuity of the Khawarij. Qadri was one of the religious leaders in Pakistan to condemn the terrorist attacks on September 11, 2001.
He has denounced and severely condemned Osama bin Ladin.Qadri describes terrorism as an "ideological infection" and believes that, through his anti-terrorism summer camps, "we are fighting on the ideological, philosophical, theological and academic fronts. We are trying to educate young people."
Reuters featured Qadri in August 2009 as a leading Sufi scholar who is working to bring the western youth away from extremism towards moderate Islam and to combat extrems, he was quoted as saying: "Suicide attacks are not allowed in Islam, these actions are un-Islamic,
The slaughter of human beings in any religion or country, and terrorism in all its manifestations, are totally in contradiction with the teachings of Islam." The same view is also held by the majority of mainstream (non-Sufi) Muslims based on the teachings of the Qur'an 5:32.
Dr. Muhammad Tahir ul Qadri took the challenge and presented a thorough and decisive fatwa to stop such extremist acts and present the True Image of Islam in the light of Authentic Islamic sources.The Muslim Ummah which suffered, because these extremist and terrorist acts were taking place in the name of Islamic concepts like "Jihad".
Extremist used mis-interpretation of Quran and Hadithic concepts to cloud the minds of muslims and specially youth, which lead to barbaric acts like suicide bombing. Some got apologetic regarding islam and it's teachings and some others started defending these acts.
Fatwa on suicide bombings and terrorism acted as a relief and empowered those who stood for the moderate way and specially youth whose clouded minds were given clarity & understanding of Moderate and peaceful teachings of Islam.
The effect of this edict on the world was very evident, Feedback through several letters and e-mails from all over the world from muslims and non-muslims alike proved the fact that Islam stands for Peace, Unity, Love and Harmony.
As a trained jurist, Dr. Muhammad Tahir-ul- Qadri has authored around 1,000 books out of which more than 450 have been published. As an unrivaled orator and speaker, he has delivered over 6,000 lectures and has been teaching Islamic subjects such as jurisprudence, theology, sufism, Islamic philosophy, law, Islamic politics, hadith, seerah, and many other traditional sciences.
Dr. Muhammad Tahir-ul-Qadri discussed his fatwa against Al-Qaida, Taliban, and other radical organizations and how he and his organizations have been working toward reducing the spread of extremism. He has explicitly declared terrorism as an act of disbelief (kufr) in Islam, and his peacebuilding activities are bringing youth away from radical ideology.
SBS News> Video Interview with Dr.Tahir-ul-Qadri >>>