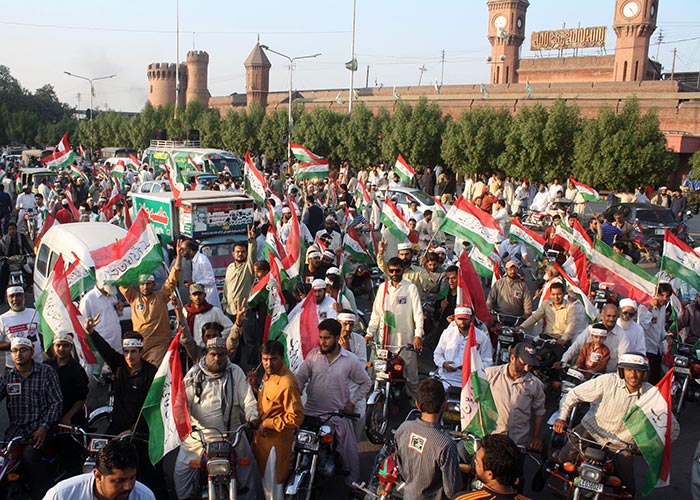 All is set for Pakistan Awami Tehreek's revolution to strike Lahore on October 19. Festivities have begun and people are passionate as welcome banners grace the streets and roads of the provincial metropolis in run up to mega event at Minar-e-Pakistan. Revolution in Lahore will revive memories of March 23, 1940.
The youth of Lahore brought out a motorcycle from Railway station to Minar-e-Pakistan in order to activate the people for the big day. The massive attendance of the youth rejected the current policies of the rulers and so-called democratic dictatorship. The motorcycle rally was led by President of PAT Lahore chapter Chaudhry Afzal Gujjar. Other PAT leaders Irshad Ahmad Tahir, Hafiz Ghulam Farid, Malik Imran, Dr Owais, and Altaf Randhawa were also part of the rally. The participants of the rally chanted 'Go Nawaz Go' slogans to decry the corrupt and oppressive system. The protesters were carrying placards with slogans against rulers written on them.
Addressing the participants of the rally, President of Awami Youth League Malik Imran said that Lahore would witness a massive public meeting at Minar-e-Pakistan on October 19. He said that revolution in Lahore will set up a new record as people will come out of homes in their hundreds of thousands to protest the incumbent system, which is anti-people and anti-state. He said that in addition to PAT workers, people belonging to all segments of society including labourers, traders, civil society, lawyers, farmers and workers of allied parties will attend the public meeting in their large numbers.
The PAT leaders, while speaking on the occasion, paid glowing tributes to martyrs of Model Town, saying that the credit for people's revolution will go to them as they laid down their lives for greater cause. They said that sit-ins in Islamabad have given people awareness about their rights as enshrined in the Constitution. They said that the people have risen up to send corrupt and dictatorial rulers home. They said that revolution in Lahore on October 19 will revive memory of March 23, 1940, adding that the Muslims of the sub-continent approved a resolution for establishment of a separate homeland on that day. They said that October 19 will further renew and strengthen movement to win over real independence in the country. They said that Dr Tahir-ul-Qadri has become a voice of the millions of the poor and masses were joining his movement in droves.