Says rulers have created grave crisis of bread and security.
Says it is yet to be determined whether much talked about $35 billion investment is an investment or a loan. PAT is keeping a close watch on the matter.
Resolves to make Pakistan hub of peace and development with cooperation of overseas Pakistanis
Says Pakistan and corrupt system cannot go together anymore
Promises 10-point PAT agenda will eliminate injustice in the country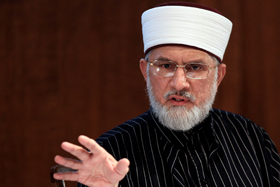 PAT chief Dr Muhammad Tahir-ul-Qadri has reached New York in connection with organizational tour of the US where he is all set to address PAT conventions in New York, Dallas and Houston during his stay. On arrival at the New York airport, he was received very warmly amid passionate chants and slogans of workers.
Dr Tahir-ul-Qadri delivered a brief address to the workers on the occasion. He said that we would make Pakistan a hub of peace and development with cooperation of the overseas Pakistanis. He said that rulers who are protector of corrupt and oppressive status quo have created grave crises of 'bread and security'. He said that had there been real democracy in the country instead of family dynasty, the Prime Minister would not have restricted consultations with his younger brother, the Chief Minister of Punjab, in connection with seeking Chinese investment of $35 billion, adding that in that case the PM would also have kept the other three Chief Ministers on board. He said that reservations are being expressed on the agreements of $35 billion by neutral observers and PAT is also keeping a very watch on the matter. He said that we are keeping an eye on the fact as to whether this is an investment or any form of loan, how far will these agreements benefit Pakistan and its people and what is the interest of rulers in these deals.
The PAT chief said that had legislators sitting in Parliament and institutions mandated to dispense justice and hold rulers accountable been playing their role effectively, there would have been no need of staging long-marches and sit-ins. He said that neither did the heirs of Model Town martyrs get justice nor was any heed paid to allegations of rigging in elections in the present corrupt system, adding that this is not the way to run a state. He asked the masses not to turn a blind to this sorry state of affairs prevailing in the country.
Dr Qadri said that PAT workers are determined to change this corrupt system and they would not rest till they achieve their objective. He said that the concept of revolution propounded by PAT will eliminate injustice and discrimination of every kind, adding that our 10-point agenda will make people shareholder in resources and power. He said that we would strengthen institutions by ending one-man show everywhere. He said that after revolution, the government will truly be accountable to elected representatives and the masses. He further stated that we would make people masters of their destiny by devolving power to the grass-roots and establishing powerful local bodies institutions.
Dr Tahir-ul-Qadri said that there would be an open and frank discussion with the members of expatriate community regarding political situation of Pakistan, oppression of rulers and PAT's pro-people and revolutionary agenda on November 7, 8 and 9 during his stay in the US. He said that tragedies have continued to happen in Pakistan due to incompetent rulers. He said that carnage near Wagha border and Kot Radha Kisan tragedy has badly affected the image of Pakistan in the world. He said that questions were already being raised on effectiveness of Pakistan's justice system due to Model Town tragedy, adding that new fronts have opened up now. He said that this is result of fake democracy and incompetence of rulers.
Dr Tahir-ul-Qadri said that corrupt democratic system and Pakistan cannot go together anymore. He said that the rulers crack jokes with the people in the name of relief. He said that hardly had any relief due to reduction in POL prices reached the people that the decision to increase prices of electricity, flour and gas was taken. He said that such anti-people steps cannot even be thought of in the western democracy. He said that registration of FIR of Model Town incident could only be possible after revolution sit-in but said in the same breath that investigation has yet to be initiated in the matter. He said that rulers are major hurdle in the way of dispensation of justice, vowing that PAT revolution will remove these obstacles.