Says formation of ECP according to Article 213 and conduct of elections as per Article 218 essential for sustaining democracy
Says Elections 2013 were held under discretionary powers.
Says Supreme Court's decision of June 8, 2012 still awaits implementation for fair elections.
Talks to delegations of overseas Pakistanis in New York who call on him.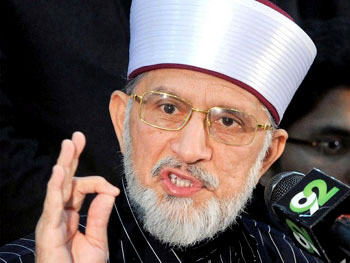 PAT Chairman Dr Muhammad Tahir-ul-Qadri has said that the root-cause of ills plaguing the efforts to successfully spearhead democratic project in the country is illegally constituted Election Commission. He said that the compromised electoral system which PPP and PML-N tried to impose on the country under the London plan has been exposed to the people with all its in-built deficiencies. He said that reconstitution of Election Commission according to letter and spirit of Article 213 and the conduct of elections in compliance with Article 218 are essential for democratic future of Pakistan.
Dr Tahir-ul-Qadri stated this while talking to various delegations of overseas Pakistanis in New York yesterday. He said that the Supreme Court's decision on a writ petition on June 08, 2012 is yet to be implemented for fair, free and transparent elections. He said that general elections 2013 were not held as per Constitution but under discretionary powers. He said that he had pointed out these ills in the Islamabad Long March in January 2013, adding that had all stakeholders paid attention to his constitutional apprehensions, the present crisis would not have appeared at all.
Dr Qadri said that strong democracy of India and western world is a function and gift of their sovereign and independent Election Commissions. He said that Election Commission is like a heart in a democratic system, adding that if heart did not function properly, how could transmission of clean blood be ensured throughout the body? He said that Election Commission is not still working under the relevant laws and Constitution. He said that this most important organ of the state has been headless for a long time besides witnessing frequent changes at the top in last five years. He said that such kind of joke can't even be thought of in the rest of the world.
The PAT Chairman said that he previously demanded of the four provincial Election Commissioners, who are illegally holding their positions, to step down immediately and is repeating the same demand now. He said that PAT had concluded after first experience of 1989 elections that electoral reforms were a must to get rid of feudalistic and capitalistic democracy in the country.
He further stated that we presented a vision of fair and free elections and formation of a neutral Election Commission in 1992, which was neither acceptable then nor is it acceptable now to those who come into power through rigging. He said that the office of Chief Election Commissioner has been rendered into a joke now and no honest, credible and honorable man is ready to be appointed to this post. He said that a special but powerful segment of society which has been used to running the country and democracy under their discretionary powers is a major hurdle in the way of electoral reforms, formation of ECP according to Constitution and the conduct of fair polls.