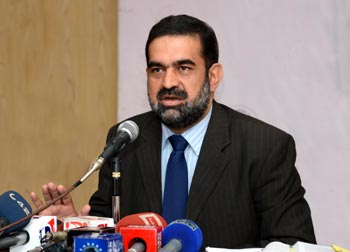 PAT President Dr Raheeq Ahmad Abbasi visited Chiniot, Jhang, Bhawana, Shor Kot and Ahmadpur Sial in the first phase of his countrywide visits aimed at reorganizing local chapters of Pakistan Awami Tehreek. He visited the families of those martyred and injured in Model Town on June 17, August 10 and during revolution march on August 30-31 to pay his respects to the families who rendered the sacrifices of their near and dear ones for the lofty ideals of revolution and change in the system.
Dr Raheeq Abbasi paid a glowing tribute to the determination and unwavering commitment of workers. He said that PAT workers chronicled a glorious chapter in the annals of political history of the country by leading from the front and offering the sacrifice of their life for better tomorrow of the nation. He said that they made us truly proud with their unflinching resolve. He said that committees have been established to make all arrangements for maintenance of the families of martyrs and the injured.
Dr Abbasi said that PAT gave a damn to the government's announcement of aid money, be it Rs. 2 billion or Rs. 200 billion, adding that we would take care of our people and do not need the government's support in this regard. He again made it clear that there would be no deal with the government on the blood of martyrs, further saying that there would be blood for blood according to law of the land and Islamic injunctions. He said that all those involved in Model Town and the Islamabad tragedies would be brought to justice and made accountable for their actions.
The PAT President held wide-ranging consultations with the workers regarding local government elections. He told workers that PAT would take part in all elections including the local government ones and instructed them to start making preparations for this purpose. He also asked the local chapters to complete reorganization of their local chapters and submit a compliance report to the central secretariat in this regard by the end of next month.