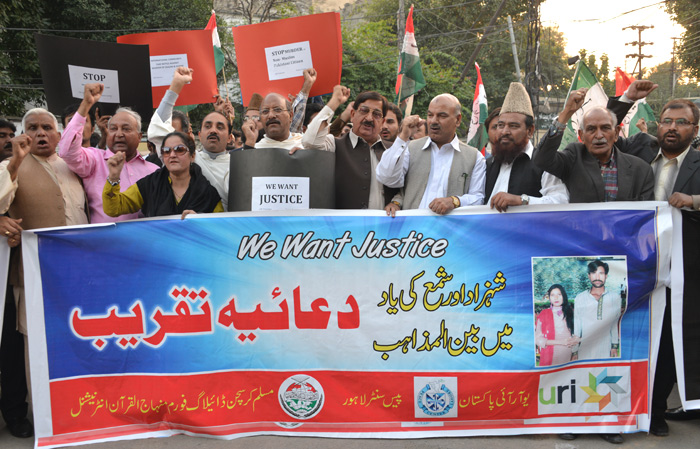 An interfaith prayer ceremony was held in the memory of slain Christian couple, Shahzad Masih and Shamma, victims of Kot Radha Kishan tragedy, under the banner of PAT Muslim-Christian Dialogue Forum, United Religious Initiative (URI) and Peace Centre Lahore. Candles were also lighted to honor the memory of the late couple.
Addressing the participants of the prayer ceremony, PAT Secretary General Khurram Nawaz Gandapur said that every Pakistani is grieved on the horrific and tragic killings of Shamma and Shahzad in Kot Radha Kisan. He said that PAT strongly condemns this barbaric incident and calls for severe punishment to those who are involved in this crime. He said that Islam is a religion of peace, love and humanity and does not allow anyone to take life of others. He said that PAT leader Dr Muhammad Tahir-ul-Qadri is spreading Islamic message of love, peace, harmony and inclusiveness around the world. He said that the Holy Prophet (peace be upon him) gave equal rights to the non-Muslims citizens of Islamic state of Madina.
The PAT Secretary General said that those who have perpetrated this horrible crime are not only enemies of Islam but also of humanity. He demanded that culprits should be arrested forthwith and all legal demands for dispensation of justice should be fulfilled in this respect. He said that the purpose of this interfaith prayer and protest is to give message to the peace-loving people of the world that they should play their individual and collective role for establishment of peace. He said that durable peace will only be possible if all of our efforts are premised on larger well-being of our people irrespective of any discrimination of caste, creed, color and race.
Addressing the participants of prayer ceremony, Director of Peace Centre Lahore Dr Father James Chanan said that his organization and he condemned barbarism which was at full display in Kot Radha Kisan in the strongest possible words. He said that it was during rule of the Sharif brothers that Christians have particularly been targeted. He asked the government to shun obduracy and complacency and take immediate steps for redressal of grievances of the Christian community. He further underlined the need of making interfaith teachings part of syllabi to promote love and peace in the country, adding that legislation needs to be carried out to control abuse of load speakers in worship places of all religions.
Dr James Chanan requested the Supreme Court to take a suo moto notice of the incident. He said that if we did not get justice, there is all possibility that this protest movement would spread in the whole country and sit-ins will be staged throughout the country. He said that representatives of all religions including Islam, Christianity, Sikh, and Hinduism have given a strong and clear-cut message to the world community that all of them are united on universal message of peace, love and interfaith harmony. He demanded the arrest of culprits in next 48 hours.
Youil Bhatti, Secretary of URI, said in his speech that Kot Radha Kishan tragedy is a heinous conspiracy against the humanity. He said that no rational man can even think of committing such a horrible crime. He said that we would go to every limit to get justice and will not rest till then.
Sohail Ahmad Raza, Secretary of Muslim-Christian Dialogue Forum, said on the occasion that the non-Muslim citizens enjoy equal rights in Pakistan like their Muslim counterparts. He said that such incidents as Kot Radha Kishan tragedy will strengthen image of Pakistan as a country, which is unsafe for the minority communities. He said that Muslims have also been as deeply hurt by this incident as the Christians. He said that peace-loving people of the world will have to play their role for elimination of terrorism and extremism. He said that silence of the peace-loving people is a major hurdle in the way of establishment of durable peace.
Pastor Shahid Miraj, Father Pascal, Dr Kanwal Feroz, Dr Marqis Fida, Mufti Ashiq Hussain, Joseph Francis and leaders of other faiths also spoke on the occasion. Peace candles were lit to express solidarity with late Shahzad and Shamma.