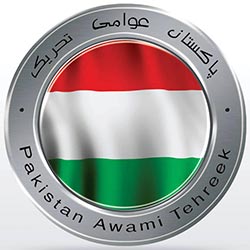 A Spokesman of Pakistan Awami Tehreek (PAT) has said that Federal Information Minister has tried to mislead the nation by showing out of context the footage of attack at the PTV building in which Dr Tahir-ul-Qadri has been shown to be congratulating PTI Chairman Imran Khan. He made it clear that PAT chief Dr Tahir-ul-Qadri did not congratulate Imran Khan on attack at the PTV building but on reaching in front of the Prime Minister's House and video proof of the same is being provided to the media. He said that we never denied conveying felicitation to PTI on arriving in front of the PM House.
The Spokesman said that when PTV building was attacked, PAT leader Dr Tahir-ul-Qadri strongly condemned it and gave his word that if any of PAT workers or participants of sit-in was there, he should immediately come back. He said that the pictures of attackers published in the newspapers were those of PTV employees including daily wagers. He said that PAT chief had indicated this in one of his speeches to the participants of the sit-in at that time, adding that Federal Minister Khawaja Saad Rafique admitted this to be true and termed Dr Qadri's indication as correct.
The Spokesperson said that Pervez Rasheed should now learn how to speak the truth at this stage of his life, adding that politics of slander, libel and baseless accusation does not suit him.