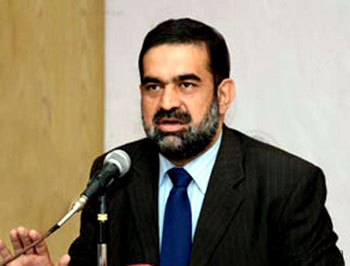 An emergency meeting of Central Working Council (CWC) of Pakistan Awami Tehreek was held in the central secretariat of the party on January 07, 2015 with central PAT President Dr Raheeq Abbasi in the chair. PAT leaders GM Malik, Jawad Hamid, Ahmad Nawaz Anjum, Bashir Khan Lodhi and media adviser Noorullah Saddiqi attended the meeting.
The meeting demanded that the ISI, MI, IB and FIA should be mandated with the responsibility of investigation into cases of terrorism under the supervision of the army. It further said that if police were involved in the investigation process at any level, it will not only breech secrecy and transparency but the requirements of speedy trial of the cases will also not be met.
Speaking on the occasion, Dr Raheeq Abbasi said that with the setting up of military courts, the government's responsibility has not ended, rather it has begun. He said that the matters pertaining to identification of supporters, patrons and aides of terrorists, change in syllabus and stopping the funding fall within the domain of the government. He asked the government to refrain from using national consensus on matter of military courts for ulterior political objectives.
The PAT President said that the people of Pakistan have given concession to the government for elimination of terrorism, adding in the same breath that such important matters as rigging and Model Town tragedy cannot be ignored at any cost. He asked the government not to create hurdles in the way of fair investigation of Model Town case and electoral rigging. He further said that the government should not be complacent about public issues such as load-shedding, injustice, poverty and unemployment, warning that the people's backlash can be more severe than rulers' expectations.
In response to a statement given by Punjab Minister Mujtaba Shuja-ur-Rehman at the floor of the Assembly, PAT Secretary General Khurram Nawaz Gandapur has said that the Punjab government and police arrested those within hours who disrupted the memorial ceremony for late Punjab Governor Salman Taseer by identifying them on the basis of TV footage but has failed to identify those who fired live bullets at the PAT workers for 15 hours in front of TV cameras despite passage of six months. He said that lawlessness is on the rise in the province due to double standards of the Punjab government with the result that the culture of taking law in one's own hands is taking firm root.
The PAT Secretary General said that footage of 15 hours is present in which police officials have been shown to be firing at workers and police officers patting them at their backs and ordering them to fire. He asked when will the government of Punjab conduct parade of the accused for establishment of their identity and arrest them in the light of footage of the horrible incident in which 14 people including two women were martyred and around 100 people were injured?