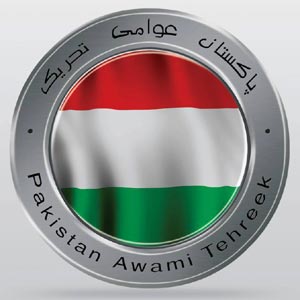 Pakistan Awami Tehreek (PAT) has sent video and audio footage of terrorist incident of Model Town to the Federal Minister for Interior through courier service. It is pertinent to mention here that the Minister, in his policy statement in Parliament on March 17, said that those who ransacked public and private property and burnt innocent people to death in Youhanabad will be arrested with the help of video footage.
The Spokesperson for PAT chief Dr Muhammad Tahir-ul-Qadri, while sending the footage to the Interior Minister, said that the Interior Minister should order the arrest of those who sprayed bullets on innocent people in Model Town, adding that a person having a semblance of eyesight can easily identify the culprits in the video footage. He said that two people were put to death in Youhanabad while 14 innocent people were killed and 85 others were injured by firing of live bullets by police goons. He said that the law should come into effect on the killing of any innocent person irrespective of any discrimination and those responsible for it should be meted out exemplary punishment.
The Spokesperson said that had those who shed the blood of innocent people in Model Town been handed down exemplary punishments, no one would have dared take law into his hands. He further said that whatever happened in the wake of terrorism in Youhanabad was shameful to say the least and the provincial government cannot be absolved of its part of responsibility.
The Spokesperson asked the Interior Minister to furnish answers to five questions in the light of the policy statement he delivered at the flood of the parliament:
The footage of those who sprayed bullets on innocent people in Model Town is available. When will those who fired live bullets at unarmed innocent people be arrested?
The Judicial Commission set up by the Punjab government to probe the incident of terrorism in Model Town held the Punjab government responsible for the tragedy. Why has its report not been made public despite passage of five months? Why is the federal government silent in this regard?
Why has no action been taken on the FIR lodged by the families of martyrs of Model Town tragedy despite passage of seven months?
Rana Sanaullah was removed from his ministerial position in the wake of Model Town tragedy. In what capacity is he playing the role of a mediator on behalf of the government in incidents of terrorism?
The stories of the Punjab government's failure and incompetence are galore everywhere whether it is super flood of 2010, deaths of 150 heart patients due to fake medicines at PIC, or deaths of 450 citizens due to fake anti-dengue spray, or riots in Youhanabad. When will the Interior Minister order the establishment of a commission against incompetent Punjab government and consequently send it home?