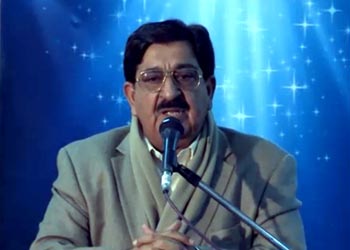 A prayer ceremony was held on April 21 under Pakistan Awami Tehreek at the central secretariat on the occasion of 77th death anniversary of Pakistan's national poet Allama Dr Muhammad Iqbal. The ceremony was attended by central, provincial and district PAT and MQI leaders in addition to members of Minhaj Ulama Council in large number.
Speaking on the occasion, PAT Secretary Khurram Nawaz Gandapur said that nothing has brought Pakistan to this poor state of affairs except corrupt politicians, and obsolete and oppressive electoral system. He said that a country which was supposed to lead the whole South Asia has been so weakened politically and economically that it has not been able to take independent decisions. He said that it has happened because we have turned our back on the thought and ideology of Allama Iqbal. He said that today's Pakistan does not represent the realization of Iqbal's ideals. He said that it is dire need of the hour that we work out our national priorities in accordance with Iqal's teachings.
Sajid Bhatti, Syed Farhat Hussain Shah, Rana Idrees, Jawad Hamid, Basharat Jaspal, Raja Zahid Mahmood, Farah Naz, Ayesha Shabbir, Chaudhry Afzal Gujjar and others were present on the occasion.
Khurram Nawaz Gandapur said that we are concerned on the martyrdom of innocent Kashmiris in the Indian-occupied Kashmir. He said that India should recognize the special status of India and find a negotiated settlement of the Kashmir dispute. He said that if the broad contours of our policies are realigned with Allama Iqbal's thought, there is no reason why we cannot overcome present dip and get back on track of progress and development. He said that we would have to take guidance from Iqbal's concept of ego and send the corrupt system packing.
The PAT Secretary General impressed upon the people to play their affirmative role in this regard, adding that they should reject corrupt leadership and pledge their loyalty to rule of law, Constitution, honesty, and clean politics. He said that the people have got a chance to use their vote as an agent of change in the upcoming elections in cantonment board. He said that the voters should put national interest ahead of their petty, parochial interests. He asked them to vote for the PAT candidates on April 25. He said that the people have already seen the results of façade staged on May 11, adding that the same people who betrayed their mandate in the past are now trying to make them vote for them under new pretexts. He said that the people should remember that the present system has given them nothing except poverty, destitution and unemployment. He said that only an aware nation can ward off all dangers through affirmative action and judicious choices at the hustings.