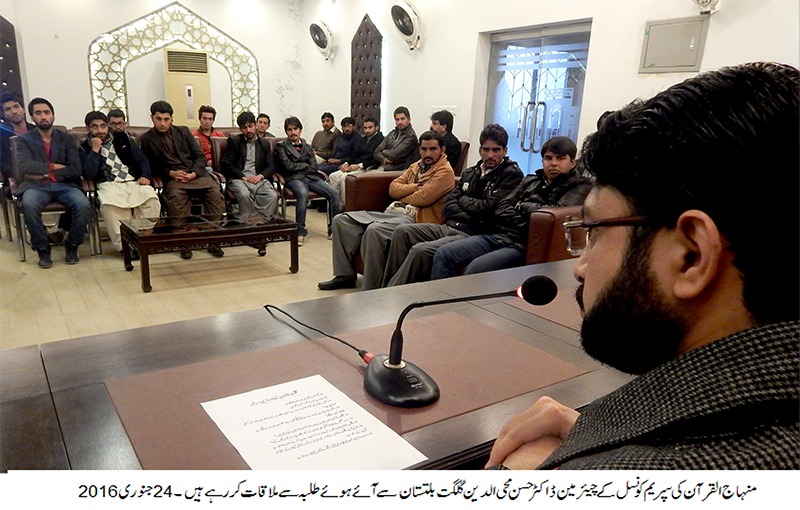 Dr Hassan Mohi-ud-Din Qadri, senior PAT leader and the President of MQI Supreme Council, has demanded that Gilgit-Baltistan should be declared as the fifth province of the country and its educated youth should be provided employment at their doorstep. He further asked the federal government to withdraw anti-people decision of decreasing the quota of wheat.
Dr Hassan Mohi-ud-Din Qadri expressed these views while talking to 40-member delegation of Gilgit-Baltistan that called on him at the central secretariat yesterday. These students have come to take part in winter course of MSM in Lahore. They will be imparted training in English spoken courses, computer education, and basic religious sciences.
Dr Hassan said that Dr Tahir-ul-Qadri and MQI are the host of those who come to quench their intellectual thirst. He said that MQI is the movement working for promotion of peace, love and interfaith harmony. He said that the organization is busy in promoting the real image of Islam in the world under the leadership of Dr Muhammad Tahir-ul-Qadri. He said that we would make Pakistan hub of peace by eliminating sectarianism and establishing justice in the country. He said that we are making special arrangements for education of students belonging to GB in the institutions of MQI, adding that the capacity to impart training to the students will be enhanced.
Tanvir Ahmad Khan, Qazi Faiz-ul-Islam, Ch Irfan Yousaf, Noorullah Saddiqi and Asim Inqilabi were also present on the occasion.
Speaking on the occasions, the students of GB said that they would like to know what benefits the China-Pakistan Economic Corridor held for their region. They said that we are also waiting for fulfillment of promises the rulers made with people of GB during the election campaign. They said that we should be considered as equal Pakistani and our quota of wheat should be restore, adding that new universities should be established in the region