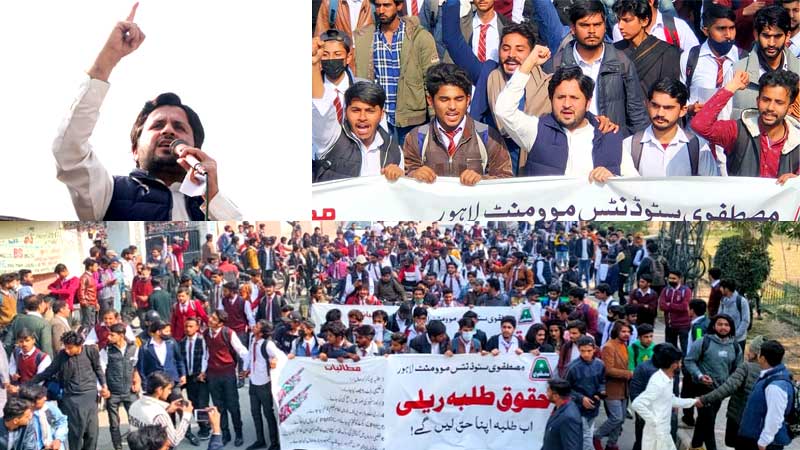 The countrywide peaceful rallies for the rights of the students were taken out under the banner of MSM. One such really was held from the government degree college Model Town to Akbar Chowk which was led by MSM central president Chaudhry Irfan Yousaf and MSM Lahore president Mohsin Iqbal.
Students from various universities and colleges of Lahore attended the rally in a large number. The participants of the rally were carrying placards and banners on which the slogans demanding rights for the students were written.
Addressing the rally, central MSM president Chaudhry Irfan Yousaf said that Pakistan Medical Commission committed robbery on the rights of medical students last year at the time of the entry test. He made it clear to the authorities that no such action will be accepted that will affect the rights of students this time round. He said that uniform system of education is our legal right. He further added that only those countries progress where education is given prime importance.
Central president MSM said that the students are architect of the future. He said that talking about quality education and the rights of the students is their fundamental right. He said that the establishment of one university at the district level should be ensured and at least 5% share from the budget should be specified for the promotion of education; and the university fees should be decreased.
Chaudhry Irfan Yousaf said that education department is a symbol of strong foundation of a country's progress and prosperity. He said that such a system should be designed in educational institutions that promotes knowledge, research and innovation. He asked the private sector universities to also consider reducing their fees in the interest of education.
The rally was addressed by MSM Lahore president Mohsin Iqbal, Sufyan Meo, Talha Bhatti and other student leaders.