MSM a platform for moral & educational training of the youth: Khurram Nawaz Gandapur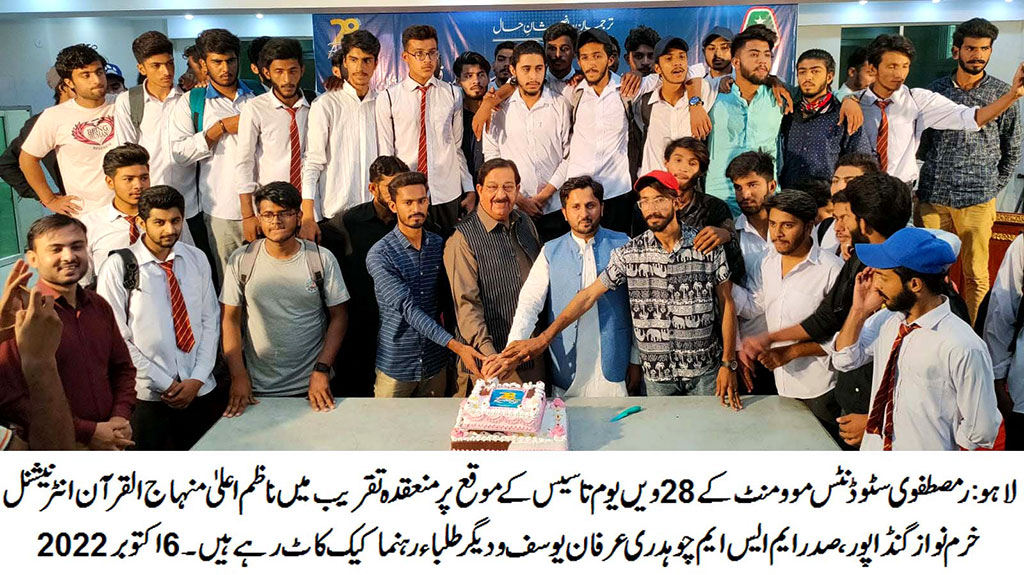 The 28th foundation day of Mustafavi Students Movement (MSM) was celebrated across the country with traditional zeal and zest. The foundation day ceremonies were held in all the four provinces including Gilgit-Baltistan and Azad Kashmir.
The central ceremony was held in the central secretariat. MQI Secretary General Khurram Nawaz Gandapur, MSM central President Chaudhry Irfan Yousaf, central, provincial and district office-holders as well as students from the colleges and universities of Lahore attended the foundation day ceremony.
In his address on the occasion, Khurram Nawaz Gandapur congratulated Chaudhry Irfan Yousaf and his team on the 28th foundation of MSM. He said that the first priority of students is friendship with books, adding that those who establish such a relationship progress in the world. He said that MSM is not just a student body but a platform for the moral training of our youth. He said that the seed of MSM was planted about three decades ago by Shaykh-ul-Islam Dr Muhammad Tahir-ul-Qadri. He said that the current and previous office-bearers and the workers who played their role in growing the seed into a fruit-bearing tree deserve the tribute and appreciation.
MQI Secretary General said that the students belonging to MSM are the carriers and the promoters of Dr Tahir-ul-Qadri's message of love, peace and harmony. He welcomed the students from different colleges and universities of Lahore on their arrival in the central secretariat. He said that the objective of character building of the students for which Dr Tahir-ul-Qadri established MSM has been fulfilled. He said that knowledge, which is pure, promotes humility and human compassion and fosters loyalty and commitment is in sync with the teachings of Islam.
Addressing the ceremony, MSM President Chaudhry Irfan Yousaf termed the students as the beauty of societies and the builder of the future. He said that the environment of colleges and universities will need to be made education-friendly where the spirit of education can be pursued. He said that MSM is continuing with its mission of promoting knowledge, peace and knowledge and protecting the rights of the students in educational institutions of the country.
Chaudhry Irfan Yousaf said that MSM is the voice of the youth and the protector of the ideological frontiers of the country. He said that Shaykh-ul-Islam Dr Muhammad Tahir-ul-Qadri has taught students to love Pakistan, Islam and humanity. He said that the role of the students for the development of the country is very essential. He said that we are for education reforms and believe that the current quality of learning needs to be improved upon. He said that a uniform system of education can put the country on the path of prosperity.
The cake marking the foundation day of MSM was cut on the occasion.