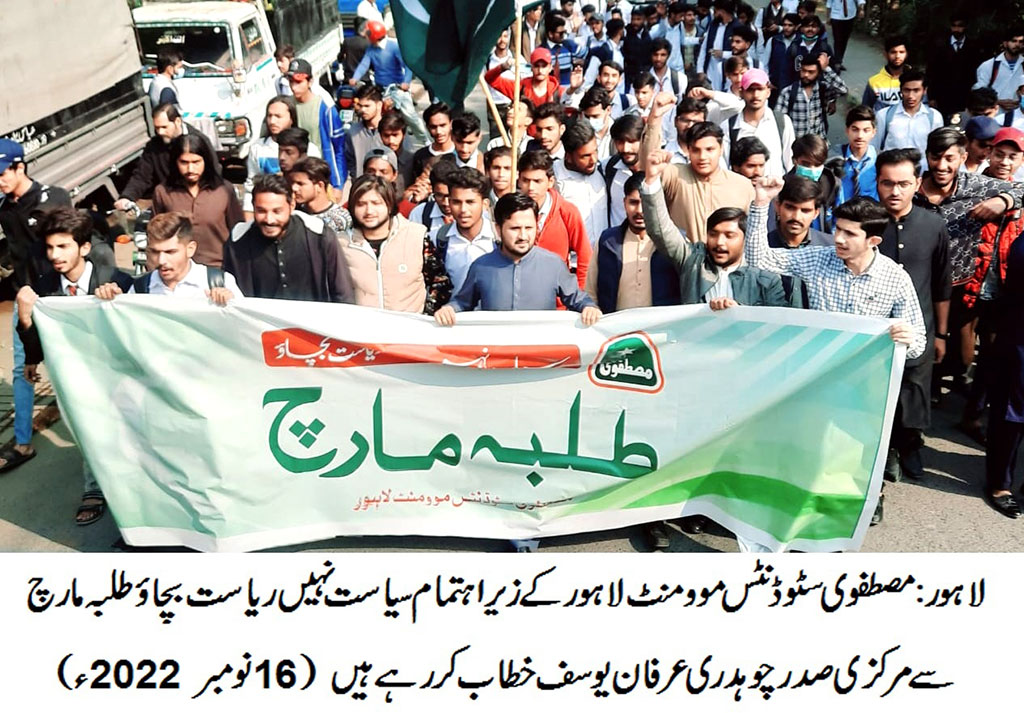 Mustafavi Students Movement (MSM) held a march under the title of "Let us save the state, not the politics'. The march led by MSM President Chaudhry Irfan Yousaf started from the international market in Model Town and concluded at Akbar chowk. A large number of students from different educational institutions and universities of Lahore attended the march.
Addressing the participants of the march, Chaudhry Irfan Yousaf said that Pakistan was achieved after untold sacrifices. He said that it is unfortunate that realpolitik is dominating today, whereas no one is bothered about the fragile state the country finds itself in. He said that if the country is there, then our lives have meaning. He said that the real issues facing the people of Pakistan have been relegated to the background, whereas scramble for political interests is dominating the airwaves.
President MSM said that our graduates have degrees but find no avenues to work. He said that the situation has led to an increase in despair. He said that while the people are finding it nearly impossible to make their both ends meet, the ruling elite is busy in their war for turf. He asked if the Quaid-i-Azam led the independence movement for the sake of the elite. He said that it is our appeal to the Chief Justice of Pakistan to take notice of the deteriorating crisis and play his role to ease things up for the common man.
Chaudhry Irfan Yousaf said that the current system is the root cause of all the problems. He said that the student community has also been greatly affected by the prevailing state of affairs. He said that there is a dire need for a new social contract that delivers and makes things easier for the teeming millions.
MSM leaders Ali Qureshi, Mohsin Iqbal, Usama Mushtaq and other student leaders also addressed the march.